At 30 Plus Men's Fitness we consider nutrition to be the key to fat loss, health and vitality and for that reason we advise our clients to keep food as close to nature as possible with fresh cuts of meat, fish, good quality poultry, free range eggs, coconut oil, olive oil, butter, veggies, nuts, seeds, oats, sweet potatoes and berries all washed down with an abundance of water.
…
SPECIAL OFFER!!!
Get all 3 cookbooks for only £25
…
Most lads think that eating healthy is boring but it doesn't have to only be about chicken and vegetables!
To take away all the confusion I created my Lean for Life cookbook with 90 deliciously healthy recipes which includes 30 breakfasts, 30 lunches and 30 evening meals.
This is a firm favourite with all of my clients and takes away all the confusion that comes with trying to eat 'clean' and will give you an abundance of variety as so you will never get bored.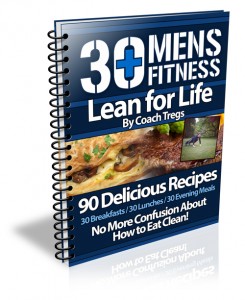 …
BRAND NEW!!!
Lean For Life 2 is now available…
At 30+ Men's Fitness we will stop at nothing to help you achieve your health, fitness and fat loss goals – that's why we've created a BRAND NEW addition to our clean eating cook book collection… Lean For Life 2 includes 90 more delicious, healthy meals – Get your copy now, just click the button below.
…
We also know that most over 30s men LOVE A CURRY
25 Restaurant style curries that are easy on the waistline!!
However its no surprise that a lot of curries are not the best for the ole waistline so we created a selection of the finest dishes without the rubbish.
Think coconut oil instead of vegetable oil, Jaggery Gur instead of sugar, butter ghee instead of sunflower oil and so on and so forth….
Included are 25 restaurant style, healthier curries and 7 Saturday night not so easy on the waistline ones that you can enjoy with a few beers….
Again this will give you an incredible bunch of options for really spicing up your nutrition without being concerned about gaining fat. Don't panic also if your not that skilled in the kitchen as we have included a recording of the preparation of each dish so that you can watch the video to guide you through as you cook it!
…
PLEASE REMEMBER THAT THESE ARE DIGITAL COPIES, SENT STRAIGHT TO YOUR INBOX ON PURCHASE AND NO HARDBACK WILL ARRIVE.